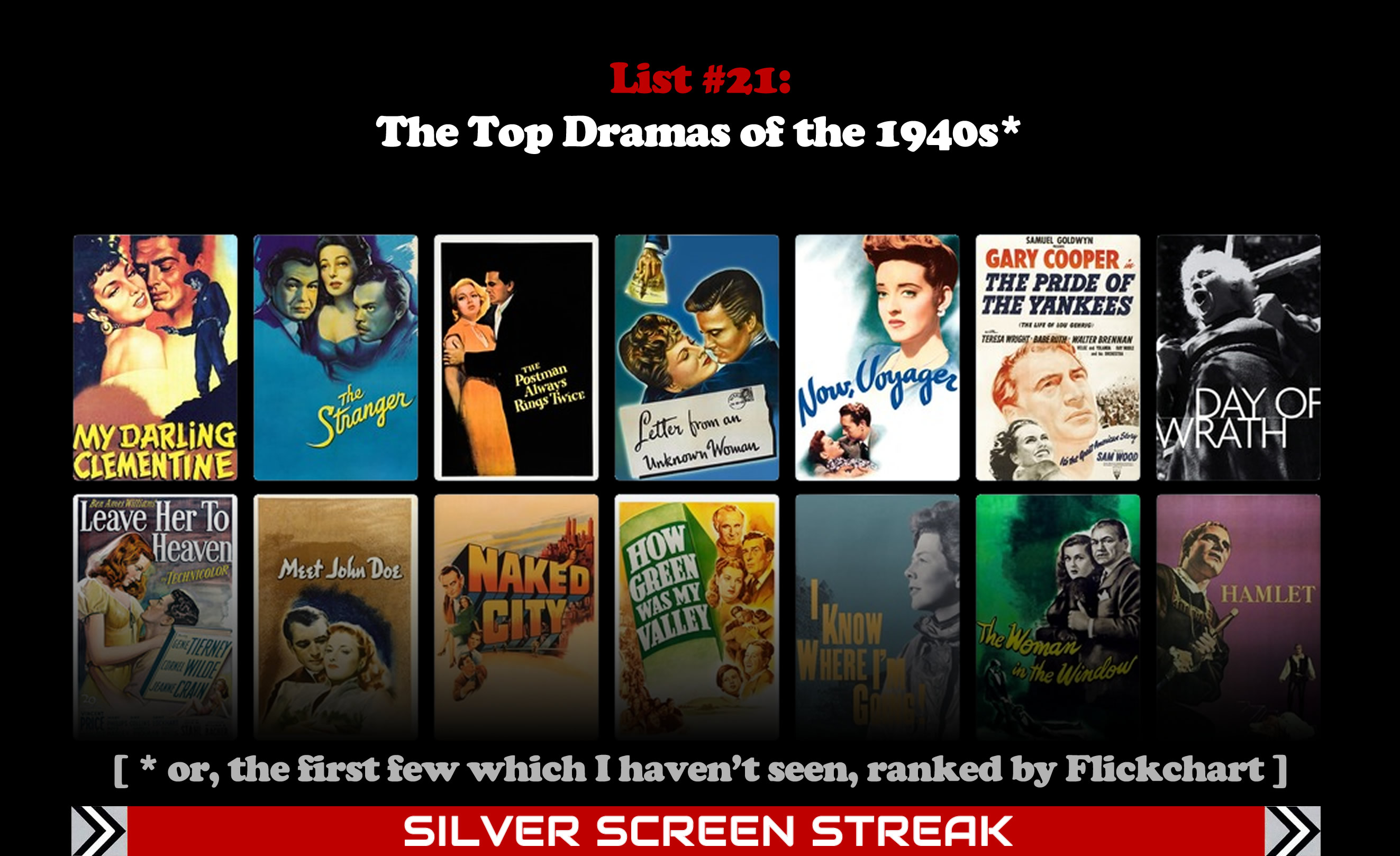 Silver Screen Streak List #21: Dramas of the 1940s
List 21. God, this is taking a long time. Over two years, and we're just getting close to the end of Round One.
One of the recurring themes of the Silver Screen Streak Movie Challenge has been: "You need to watch more movies from The Golden Era of Hollywood." Some of the previous lists covered in the project have been Childhood Dramas of the 1940s, TSPDT's 1000 Essential Noir Films, Humphrey Bogart's Filmography, and Robert Mitchum's Filmography, all of which are rooted in the classic Hollywood period.
Two of my Top 5 movies of this entire challenge could've been on this list had I not already watched them — The Heiress (1949) and The Fallen Idol (1948) — and the top 10% of my Flickchart already includes 19 movies from the 1940s. There's room for more, and I've been looking forward to several of these upcoming titles for some time.
---
THE FIRST TWO
I'll watch the first two movies from each list, giving each participant the chance to avoid an instant exit and maybe even earn some free passes.
MY DARLING CLEMENTINE (1946)
Dir.: JOHN FORD
THE STRANGER (1946)
Dir.: ORSON WELLES
---
THE NEXT EIGHT
If those first two movies fare well enough on my Flickchart, I'll continue through the following, as long as they stay above 50% on 
my Flickchart
.
The Postman Always Rings Twice (1946)
Letter From An Unknown Woman (1948)
The Pride of the Yankees (1942)
Leave Her to Heaven (1945)