2019/09: Ron Howard: Dust Eaten
The Wells Fargo Wagon brings me 125 movies and evicts the Ginger Prince from my Letterboxd stats page.
About a year and a half ago I discovered something horrifying — Ron Howard was listed as my sixth most-watched director on my stats page at Letterboxd — and set-out to rectify it. One hundred and twenty-five movies later, and I now have 20 directors from whom I have seen 19 or more films, edging milquetoast Howard and his 18 offending movies out of my field-of-view.
This might sound like a project with no down-side; after all, it gave me an excuse to explore more films from some of the great directors, like Akira Kurosawa and Ingmar Bergman, and dive deep into the oddball career corners of favorites like John Landis. However, not many directors have 19 movies worth-watching, and prioritizing directors who were already near or past my 10-movie mark resulted in trawling through some real dregs.
I have regrets. For instance, I got half-way through boosting my Wes Craven stats (included here despite not making my final 20) before realizing that the remaining movies in his filmography were on the wrong side of the cost-benefit ratio. I envisioned needing a new project to get him out of my Top 20 once Howard was history. And, yet, on a whim, I lifted Ridley Scott into my Top 20 (by watching some real garbage; he's a rare mostly bad director with a tiny handful of great movies) and instantly regretted it. Maybe three years from now, I'll do something about it.
As part of the 125 movies included below, 38 were re-watches, most of them intentionally revisited while focusing on their director. While my Top 4 movies of this project were ones I had seen before — Nashville (1975), Halloween (1978), Mishima: A Life in Four Chapters (1985), and The Blues Brothers (1980) — I am thrilled to have had a reason to revisit them, as I appreciate each of them more now than before. The top-ranking new movie from this project was wholly unexpected, and one that came in the final month from a director who I didn't even consider a candidate for this project until very late: Krzysztof Kieslowski's Camera Buff (1979), which serendipitously struck a deep personal chord with me, and I know already will be a movie that I will cherish more and more as time goes on.
Despite some dire moments — Paul Schrader's ludicrous Adam Resurrected (2008), Francis Ford Coppola's painful early nudie Tonight for Sure (1962), and Roman Polanski's incomprehensibly awful What? (1972) — these 125 movies averaged a respectable 55.33% overall.
Here's how my ranking of these director's filmographies changed as a result of my investiagtion of their work (and the natural shifting that comes from adding 400+ movies to my chart during the same period):
---
CH-CH-CH-CHANGES
KRZYSZTOF KIESLOWSKI
Before: 4 movies / 92.18%
After: 19* movies / 77.06%
Change :-15.12%
* Letterboxd treats THE DECALOGUE as 10 movies, Flickchart treats it as one.
Highlight: CAMERA BUFF (1979). Lowlight: Not being blown away by THE DECALOGUE.
AKIRA KUROSAWA
Before: 14 movies / 75.23%
After: 19 movies / 75.76%
Change: +0.53%
Highlight: DERSU UZALA (1975) moved into my Top 5 for the director.
INGMAR BERGMAN
Before: 11 movies / 77.22%
After: 19 movies / 71.42%
Change: -5.80%
Highlight: The searing SCENES FROM A MARRIAGE (1973); Lowlight: Not being able to distinguish now between SHAME (1968) and THE PASSION OF ANNA (1969).
ROMAN POLANSKI
Before: 8 movies / 65.81%
After: 19 movies / 60.38%
Change: -5.43%
Highlight: KNIFE IN THE WATER (1962)! TESS (1979)! MACBETH (1971)! Lowlight: The execrable WHAT? (1972) is not the worst movie I've seen all year.
ROBERT ALTMAN
Before: 11 movies / 61.93%
After: 19 movies / 58.72%
Change: -3.22%
Highlight: Revisiting NASHVILLE (1975) for the first time in over 20 years. Lowlight: The sheer aimlessness of A PRAIRIE HOME COMPANION (2006).
JOHN LANDIS
Before: 16 movies / 62.58%
After: 19 movies / 56.44%
Change: -6.13%
Highlight: SCHLOCK (1973); Lowlight: SUSAN'S PLAN (1998).
CLINT EASTWOOD
Before: 13 movies / 59.25%
After: 19 movies / 55.94%
Change: -3.30%
Highlight: THE GAUNTLET (1977) moves into my Top 5 Eastwoods. Lowlight: Cringing through THE EIGER SANCTION (1975).
FRANCIS FORD COPPOLA
Before: 16 movies / 60.14%
After: 19 movies / 53.45%
Change: -6.69%
Highlight: DEMENTIA 13 (1963); Lowlight: TONIGHT FOR SURE (1962).
PAUL SCHRADER
Before: 9 movies / 37.08%
After: 19 movies / 52.24%
Change: +15.16%
Highlight: Basking once again in the unique masterpiece MISHIMA: A LIFE IN FOUR CHAPTERS (1985). Lowlight: Schrader actually has three movies even worse than ADAM RESURRECTED (2008).
JOHN HUSTON
Before: 9 movies / 59.23%
After: 19 movies / 51.72%
Change: -7.51%
Highlight: The climax of KEY LARGO (1948). Lowlight: The giallo-lite PHOBIA (1980).
JOHN CARPENTER
Before: 14 movies / 47.56%
After: 19 movies / 47.33%
Change: -0.23%
Highlight: Revisiting HALLOWEEN (1978). Lowlight: VILLAGE OF THE DAMNED (1995).
BRIAN DE PALMA
Before: 13 movies / 52.17%
After: 19 movies / 46.44%
Change: -5.74%
Highlight: OBSESSION (1976). Lowlight: THE FURY (1978).
WILLIAM FRIEDKIN
Before: 8 movies / 52.90%
After: 19 movies / 46.42%
Change: -6.48%
Highlight: That tree in THE GUARDIAN (1990). Lowlight: A maddeningly inconsistent director, with extreme lows.
SPIKE LEE
Before: 18 movies / 45.01%
After: 19 movies / 45.02%
Change: +0.01%
Highlight: The mediocrity of BLACKKKLANSMAN is mitigated by my spite for Ron Howard.
RIDLEY SCOTT
Before: 15 movies / 44.74%
After: 19 movies / 44.20%
Change: -0.54%
Highlight: All of the steam. Lowlight: WHITE SQUALL (1996).
WES CRAVEN
Before: 13 movies / 44.26%
After: 16 movies / 40.34%
Change: -3.92%
Highlight: THE PEOPLE UNDER THE STAIRS (1991), now my 2nd favorite Craven movie; Lowlight: Facing the remaining options and giving up on Craven.
RON HOWARD
Before: 17 movies / 34.75%
After: 18 movies / 32.35%
Change: -2.40%
Lowlight: Feeling obligated to suffer through SOLO (2018), making this project more difficult.
---
So, the very last director added to this challenge, Krzysztof Kieslowski, ends up as the highest-ranked, and despite his average movie ranking dropping over 15% as I watched more of his work.
Well, kind of. Taken as a whole, I ranked The Decalogue at 74.46% on my Flickchart. However, if ranked individually, the 10 hour-long films in that series average 65.21%. The series truly is more than the sum, of its parts; however, this gives Kieslowski an advantage against the other directors in this project, as the thinning nature of the greater quantity of movies tends to decrease the overall ranking average.
Less controversially, Paul Schrader emerges from this challenge as the director whose average ranking on my Flickchart jumped the most, with an increase of over 15%. Incredibly, this goes against the trend of 15 out of these 17 directors losing percentage points, and the only other director to improve his average was Kurosawa, whose leap was a meager 0.53%. A whopping 10 of the 13 movies I watched from Schrader's filmography beat his previous average ranking of 37.08%.
Thumpthin' Thpethial!
Tags
---
---
---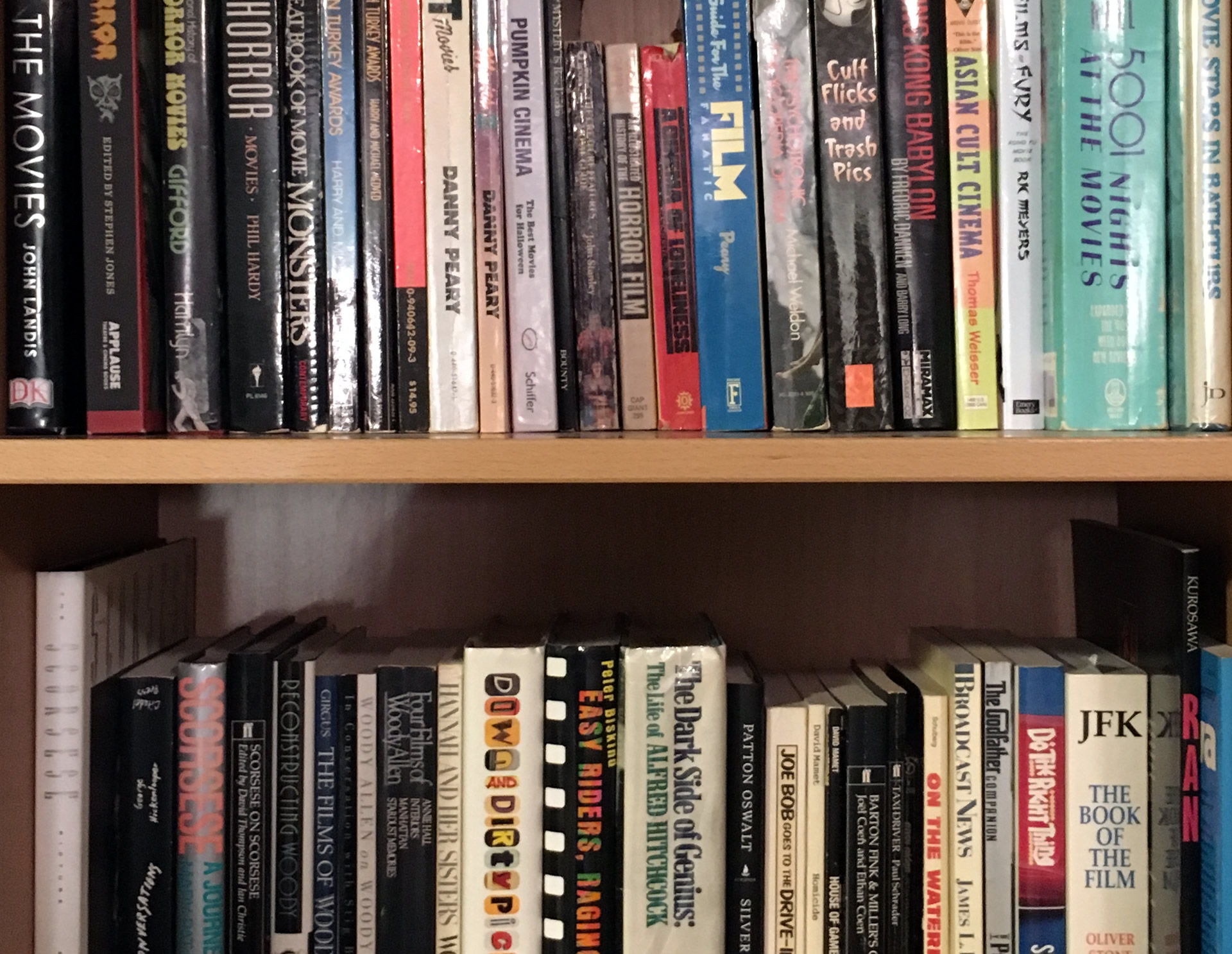 ---